Invest in Energy-Efficient Windows for Your Louisville, CO, Home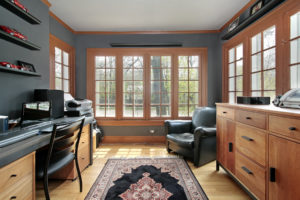 Here at BlueBird Windows & Doors, we're committed to providing homeowners throughout the Louisville, Colorado, area with windows that will keep their homes warmer in the winter and cooler in the summer. We offer a wide range of energy-efficient windows from some of the most well-known manufacturers in the industry and we back them with solid warranty protection to ensure your peace of mind.
Did you know that about 30% of your home's heated air escapes through the windows during the winter? And this is with windows that are performing effectively. So, if the windows on your home are old or in disrepair, you're probably losing way more than 30% of your toasty-warm air. And that's not just toasty-warm air going out the window—it's also cold, hard cash going out the window.
Our Energy-Efficient Replacement Window Options
Because we know that every homeowner has their own unique preferences, we offer a variety of energy-efficient windows, including:
Sunrise Verde Windows – One of our most popular replacement window options, these beautiful vinyl windows boast high-tech components such as SolarClean™ Self-Cleaning Glass, UltraCore insulation, and advanced weatherstripping.
Anlin Catalina Collection – More affordable than the Verde windows, these vinyl replacement windows have several inner chambers that help to reduce the flow of hot and cold air through the frames. They also feature energy-efficient glass systems—the Infinit-e Plus™ or the QuadraTherm™, both of which exceed ENERGY STAR® standards to provide you with superior energy efficiency.
Milgard® – These fiberglass replacement windows can be painted to match your home's exterior, which allows for more design flexibility than our vinyl window options. These windows also feature energy-efficient glass systems and are backed by a lifetime manufacturer's warranty which covers glass breakage.
Make Today a BlueBird Day!
If you'd like to learn more about having energy-efficient windows installed at your home in Louisville, CO, or a nearby area, contact the home improvement professionals at BlueBird Windows & Doors today to schedule an initial consultation.
Get a Free Quote